While most of us may not be able to visit the remotest regions of our planet, we can enjoy these places vicariously through those intrepid adventurers and explorers who do. Harshad Sambamurthy met such a traveler who visited the Antarctica to chronicle the Emperor Penguins. He writes a fascinating account of that meeting.
Very rarely do you meet someone who has visited Antarctica. Usually, movies like Happy Feet or March of the Penguins, or the visually stunning Blue Planet or Planet Earth suffice, taking us to this remotest region of the globe. But then again, sometimes you do meet that special person. A certain individual with a unique drive and infectious enthusiasm for exploration. Someone who finds meaning in nature's most beautifully desolate places, and documents their travels with a precision and patience worthy of wider notice and readership. Sometimes that person is not as foreign or as far off as you might first presume, but rather, just a few streets away.
Srikanth Chandrasekaran, a photographer, and founder of The Learning Community at Quest in Chennai did just this. About a decade ago after he and his friend bought a long-lens camera, a passion for wildlife — inspired by this friend — rapidly emerged, and ever since, Srikanth has been capturing the splendour of the natural world with a deep reverence for his subject, honing his craft with charming complexity.
The emperor of all trips
In October, he set out on an expedition to photograph the iconic Emperor Penguin of Antarctica. Departing from Ushuaia, the Southern-most tip of Argentina on a four-day journey aboard a mammoth-sized ship, his group had to forge their way through delays prompted by the arduous and hostile Drake's Passage — that involved a tumultuous downpour and innumerable seven-storey colossal waves — till suddenly, a singular tranquility seemed to thrive. They had reached. Srikanth was in store for three windless, sunny days in a landscape so fragile and delicate, as it is overwhelming in its vastness and solitude. The history of the penguin itself dates back millions of years, so in essence, the Emperor Penguin colony Srikanth got to know, was like stepping into a time-machine and coming into contact with a primordial past.
Emperor Penguins are the largest of their species, reaching up to four-feet in height. As of 2012, there were about 238,000 breeding pairs in existence, but scientists have since projected populations to plummet by as much as 33% by the turn of the century. They are one of the most ice-dependent of all penguin species, requiring it for foraging, breeding, and raising their young. With the onslaught of climate change, sea-ice cover has reduced by 60% in the last 30 years, which has knock-on effects on the supply of krill, a major food-source for Emperor Penguins. Fortunately, "life always finds a way and adapts", as Srikanth tells me that the penguins now live on thicker, sturdier glacial ice.
When interacting with the penguins, Srikanth had to reconcile for himself the seeming paradox of being a wildlife enthusiast, whilst causing disturbance in a pristine polar paradise. From the ship, a helicopter was used to transport passengers to the Emperor Penguin colony. On the ground, a strict distance was to be maintained between you and the penguin. If a penguin waddled close, you were to freeze, and if need be, assume a non-threatening horizontal position. Others were not so empathetic to these strict rules however, and taking advantage of the wide expanse, ventured off in search of that perfect shot!
Upon his recent return from the south pole, Srikanth delivered a presentation about his trip at Quest, where a display of his beautiful photography can still be viewed. For Quest, Srikanth has also structured a sequence of images from his expedition to encourage children to create and form their own stories about these penguins, stimulating a sense of learning that harnesses and inculcates a much-needed empathy and personal affiliation towards the well-being of our wildlife.
A drop at a time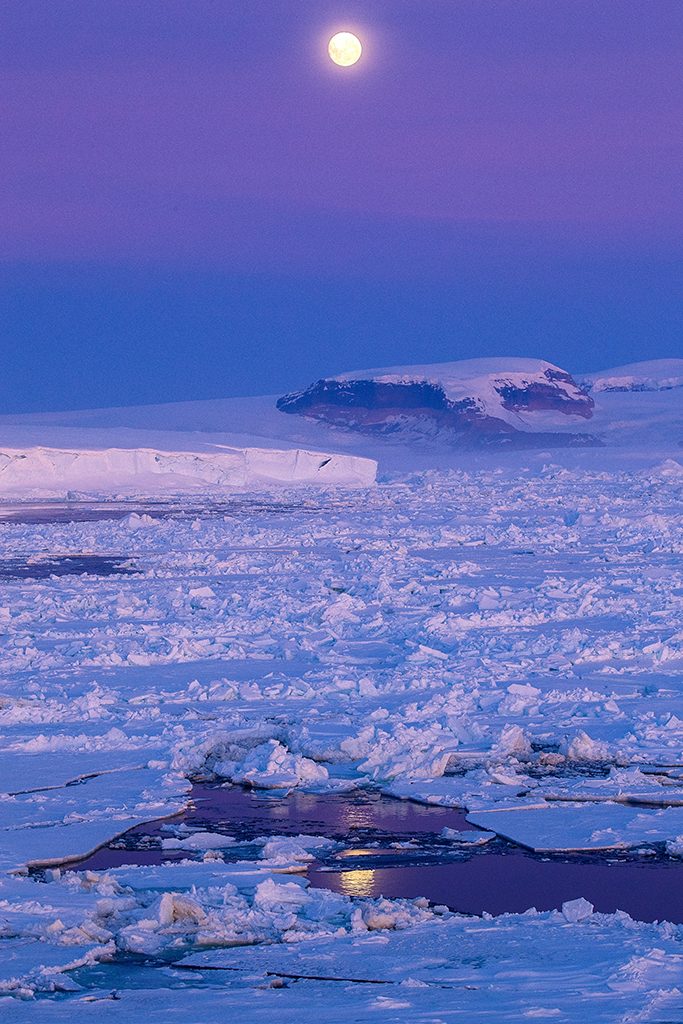 After he witnessed first-hand the impact of human-induced climate change on sea-ice and its effects on our avian friends in the Antarctic, I ask Srikanth what we, sitting in Chennai can do to make our lifestyles more environmentally friendly? It all starts with small steps he tells me; simplicity is vital. Turning-off the lights when not in use, being conscious of the food we eat and where it comes from, how many times we use our car. Things we take for granted can have severe repercussions for wildlife across the planet. If we can strive to take small consistent steps in minimising our individual carbon footprint, even marginally, this can have an immense effect upon both our climate, and the conservation of our wildlife. It all adds up.
In a pivotal point in our world's history, perhaps it is the utilisation of creative tools like photography and storytelling that can touch us at our core, and breathe emotion into the way we relate with, and perceive our environment. Perhaps the suffusion of these pieces in the larger and more intricate puzzle of conservation education is what will spur us towards re-discovering our once timeless compassion for, and harmony with all living beings.
---
Comments
comments