An exhibition of paintings and sculptures on Goddess Durga in Kolkata shows how entrenched she is in the Bengali life and consciousness. The Goddess is depicted in a myriad ways, which depict her influence on the Bengali culture, reports Shoma A. Chatterji.
Durga, the Mother Goddess with ten hands, each holding either a weapon of war or a symbol of peace and harmony has seeped into the cultural, religious and creative consciousness of Bengalis across the world. Over time, she has stepped out of geographical and linguistic barriers to soak into the consciousness of the Indian across the country and beyond borders.
Durga is worshipped only once a year during autumn, after the rainy season is over. She is worshipped collectively in public space, with great pomp and show. But once the festival is over, the goddess goes back to her heavenly home with her children and all's well with the Kolkata world. There is very little institutional worship of Durga. That is because she is present in the collective and individual consciousness of artists, writers, sculptors and creative artists like musicians, singers and dancers everywhere, and especially in West Bengal.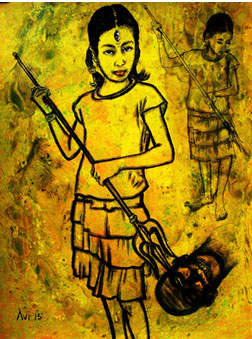 The history of Bengal suggests that at moments of political upheavals and socio-economic crisis, there was a tendency among the people to turn towards the Mother Goddess. Chandi was one of them. Her name is found in the Markandeya Purana as another incarnation of Adya-Shakti in her role as the killer of the demon Chamunda. But she came to acquire a pre-eminent position within the Bengali socio-religious life significantly, which cannot be matched with her position in other parts of India.
The all-pervasive Durga
Durga has wittingly and unwittingly, seeped into the conscious mind of the Kolkata persona – man, woman and child and is omnipresent in every street corner, but more often in her fiery image as Kali, than as the ten-handed Durga – on the back of an auto rickshaw, on the dashboard of every taxi owned or driven by a Bengali, in shops selling anything from fast food to potatoes to meat and chicken, on the back of a state bus, and so on. This writer found a huge painting of Kali's face on a wall of an iron-smelting workshop, in a small corner shop for repairing car tyres, across the wall of a tailor's shop, inside telephone booths, small shops selling paan and cigarettes, in sweet shops, snack bars, inside the ticket counter of a cinema hall, on the fencing behind a wayside astrologer's small, improvised shop where his pet parrot reads your future by pulling out one of the cards he holds and then goes back into its small cage.

As a tribute to Suladharini which is one of the 108 names of the Mother Goddess, Sensorium, a cultural organisation that is involved in "archiving popular culture" along with Indian Art Collections, a like-minded organisation, has joined in this effort to sustain the link between art and mythology in its various interpretations and manifestations from the perspective of mythology, modernity and the Indian condition.
Sounak Chakraverti, who has devoted himself exclusively to conceiving, curating and organising exhibitions like this says, "This exhibition captures a whole troupe of such artistic explorations. Themed around Goddess Durga, an iconic image that pervades our consciousness owing to her mythic display of benevolent power and Her role in subjugating Evil, the exhibition aims to highlight creative interpretations of power – in its oppressive and liberating incarnations". Reaching beyond the common representation of Durga, expressed and elaborated through the singular battle she had waged against Mahishasura to free the world of sin and inequity, the artists seek to imagine Durga's role in the life of the everyday. From this perspective, the exhibition has tried to explore the life-affirming legend for the discerning viewers.
Many artists, many interpretations of Durga
The artists who have generously chosen their selected works – between fifty and sixty – on the Mother Goddess are a wonderful mix of veterans, mid-stream artists, painters and sculptors and the much younger group. Among them is a very familiar painting by the late M.F. Hussain, which is so subtle and expressive at the same time, that it makes one wonder why he had to stay away from his homeland. Ramananda Bandopadhyay offered several of his works on the subject Suladharini for the exhibition. Other important names are – Veena Bhargava, Arunima Choudhury, Biswapaty Maiti, Jayashree Chakravarty, Srimati Lal, Samik De, Arunima Roy Choudhury, Pradiptaa Chakraborty, Kurchi Dasgupta, Debabrata Hazra and many others.

There is a beautiful, contemporary take on the Suladharini image by Avi Ray who fleshes out the Goddess by shaping her like an ordinary girl wearing a frock, who holds a spear as if it is a broom. The other end of the broom or spear is pierced into what appears to be the head of the Asura. It is a simple sketch done in black against a yellow backdrop with the shadowy figure of a similar girl in the background. The third eye on the girl's forehead gives the story away. Another contemporisation of Durga comes across in a huge painting by Kurchi Dasgupta entitled 'Durga Inverted'. It presents an incredibly imaginative concept of Suladharini as a dark-complexioned, four-armed woman holding a selfie stick with a mobile in one hand, a gun in another, a white pigeon perched on one shoulder. She wears a severe, unsmiling countenance and is surrounded by a semi-circle of blood-stained footprints. A blue butterfly is positioned where her heart is, while her chest shows a line of armed soldiers in black moving towards somewhere.
"Art has never lost a chance to celebrate this act of defiance, this refusal to cower before dominance – social or political. In that process, it has created new languages and forms of popular expression for depicting godly and earthly struggle to defeat iniquity", sums up Sounak.
---
Comments
comments