'Devika Rani', a gripping play produced by Lilette Dubey offers a compelling look into the tumultuous life of the ambitious, multitalented 'first lady of Indian cinema', who lived her life on her own terms, writes Prof. Avinash Kolhe.
Our cine industry has produced some outstanding individuals who were indeed ahead of their times. Devika Rani was one such actor, who ran a commercial cinema studio for about five years in an industry which is even today dominated by men. Not only was she very beautiful but a fine actress too. Her life was full of ups and downs, an ideal raw material for a gripping play. Lilette Dubey has produced a riveting play in English 'Devika Rani: Goddess of the silver screen' which is produced by production company 'The Primetime Theatre'.
This play is not a rendition of Devika's complete life on stage, but the focus is on her life as an important member of Bollywood, when Talkies as a new medium of entertainment was taking tentative steps. That is the era of 1930s and 1940s– those turbulent decades not only in the life of our country but Europe too, which was invaded by the Nazis.
Devika Rani Chaudhuri (1908-1994) was born into a wealthy, anglicised, illustrious family. She was the grandniece of Rabindranath Tagore. She was sent to a boarding school in England when she was just nine. She aspired to become an architect but in 1928, she met Himanshu Rai, an Indian film producer who was also in England at the time. She married him the following year and was part of his dream to set up a professional cinema studio in Mumbai on the lines of Hollywood studios. Thus was born the 'Bombay Talkies' in 1934. Prior to this, Himanshu had produced films like 'Karma' in 1933. Both got training in film-making at UFA Studios in Berlin. The Bombay Talkies was a novel experiment as it was a listed company on the Bombay Stock Exchange. This studio, based in Malad, produced some outstanding films in the next 5-6 years with Devika Rani as the lead actress.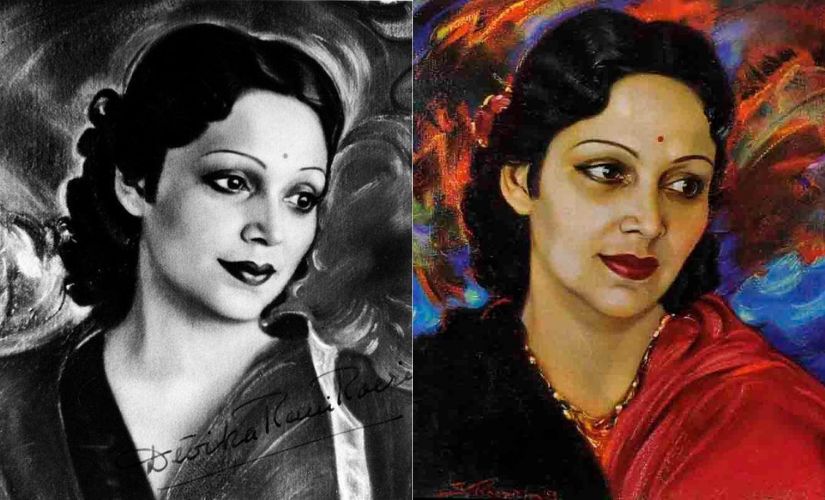 Himanshu died in 1940 and the studio was run by Devika Rani for a couple of years. Back then her colleagues were Shashadhar Mukherjee and Ashok Kumar. Her film 'Achut Kanya' (1936) with Ashok Kumar was a super-duper hit. In 1945 she retired from the film industry and married Russian painter Svetoslav Roerich. After the marriage, the couple moved to Manali in Himachal Pradesh, and led a retired life though she produced some documentaries on wild life.
Devika Rani, often described as 'Indian Garbo' led a tumultuous life which was a challenge to put up on stage. Lilette Dubey has succeeded in this. The play 'Devika Rani' focusses on the life and struggles of an independent and ambitious woman who was determined to hit the big time. She had studied acting in London and carried an inborn passion for film-making. Though she was a top-notch performer, she had to face a multitude of problems in her personal as well as professional life. This was more often than not, due to patriarchy, male egos and societal pressures.
There is an interesting story on how this play was born. Lilette and Kishwar Desai are batchmates from Lady Shri Ram College, Delhi. They met some months ago and sparked off a conversation on the iconic Bombay Talkies star Devika Rani as Kishwar is working on a book on her. They decided to collaborate and this is how the play was born.
Lilette has collected some fine talent to mount this show. The play is written by Kishwar who has enormous amount of information about Devika Rani. Salim Akhtar's lavish sets and Pia Benegal's elegant costumes give us a glimpse of London, Berlin and Mumbai of the 1930s and 40s. These elements breathe life into Devika's on-screen as well as off-screen histrionics. The play aptly depicts Devika's life journey —the pre-cinema days in London, her romance and marriage with Himanshu Rai, her acting career, her stewardship of the Bombay Talkies and finally her second marriage with the Russian painter. Ira Dubey lives up to the character of Devika Rani and effortlessly portrays Devika's pride, ambition, pragmatism and loneliness with ease and grace. Joy Sengupta, a regular name in Primetime Theatre productions, has ably played the complex role of Himanshu. The lead pair is supported by Kashyap Shangari (Najam-Ul-Hasan) and Aakanksha Kadre, who plays the role of Devika's friend and confidant Poorna.
'Devika Rani' offers first rate entertainment coupled with some serious philosophy. There is a line in the play that likens cinema to being a greedy mistress. And towards the end, as Devika turns her back on cinema in favour of peace and happiness, you can't help but feel a kinship towards this path-breaking doyen of Indian cinema, who truly lived life on her terms.

Comments
comments