The pandemic has once again brought to focus the 'Tourism vs Development' debate. One cannot be at the cost of other writes Shalini Sood emphasising the need to address the concerns related to heritage tourism.
Tourism is a significant source of revenue generation for many countries including India. The COVID-19 outbreak has however, brought the world to a standstill and also battered economies hugely dependent on tourism.
The pandemic has brought to fore the historical 'Tourism vs Development' debate as both the processes will now be looked at in a new light in the post-COVID world.
Although a few sites have been opened by the ASI (Archaeological Society of India), most tourism-related and tourism-based activities are still on hold due to the very nature of these involving crowds thronging to destinations known for their rich heritage. One of the biggest challenges therefore in the post-COVID world will be to restart tourism and its related activities, addressing health and safety concerns.
Policies are being re-designed, new rules are being set to face the unprecedented crisis and to find ways to make it an opportunity for positive change in the future.
New 'Development' discourse underway
The pandemic triggered a new set of inequalities and has brought the world together to shape the development discourse for a more sustainable and egalitarian world. In the post-COVID world, policies are being framed to ensure man rekindles his relationship with nature and maintains a balance.
"The restart of tourism means the return of hope and opportunity for many millions of people around the world," were the words of United Nations` World Tourism Organisation (UNWTO) Secretary-General Zurab Pololikashvili as he spoke of 'putting people first' in the post-COVID world.
Heritage tourism faces scrutiny
Heritage tourism has the most fundamental relationship with development. An effective driver of economic growth and consequential 'development', heritage tourism is facing scrutiny in the development debate.
"People don't realise but there are a large number of tourists who visit countries like India for its rich heritage," says Mumbai-based tour guide Irshad Khan. Employed with a South Mumbai tour agency, he earned well as a tour guide for the past decade or so, before the pandemeic outbreak turned his life topsy turvy.
He had been taking large groups of tourists around the heritage precincts in South Mumbai, home to two UNESCO World Heritage Sites – the Victorian Gothic and Art Deco ensembles of Mumbai concentrated in the areas adjoining the Marine Drive and the Chhatrapati Shivaji Maharaj Terminus (CSMT) or Victoria Terminus (VT) as it was previously known. The Colaba heritage precinct is also very popular among domestic and foreign tourists who love strolling along the Colaba Causeway, shooting the heritage buildings and hanging out in the famous bars and restaurants in the zone.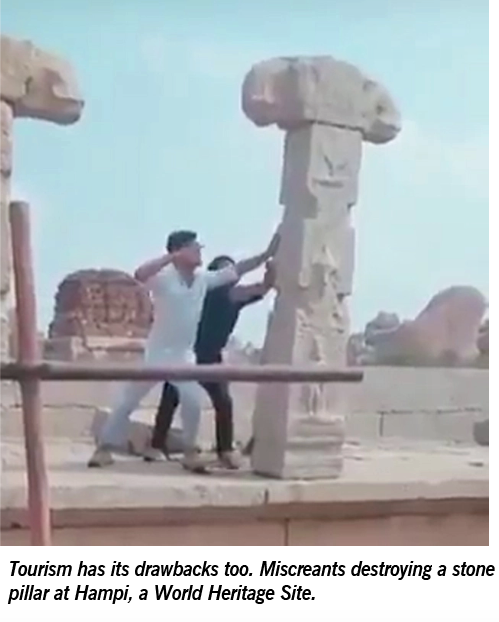 "I am not highly educated but I can speak more than ten languages to cater to the majority of foreign tourists that employ the services of my agency. This is the only work that I know and now the uncertainty over resuming of tourism has been worrying me and my family sick," he says with anxiety.
Like Irshad, there are millions of individuals directly and indirectly engaged in tourism activities in the heritage-rich zones in the country such as Delhi, Uttar Pradesh, Rajasthan, Gujarat, Maharashtra who, along with their families, are staring at a bleak future.
Important to strike balance with nature
Goa-based environment volunteer Jose Fernandes says, "Now it will be easier for people to understand the importance of maintaining a balance with nature." In the past few years, Goa has witnessed utter callousness of the locals who, to make easy money, had been violating environmental norms blatantly to build structures along the beaches.
"Not only that, illegal structures in the adjoining villages, improper waste management, absence of sanitary infrastructure have polluted the pristine environment of the state. The COVID-19 pandemic has come as a blessing in disguise when nature got a chance to heal itself in places like Goa."
The tourism versus development debate is not new. There are advantages but also a few concerns. Tourism creates job opportunities, is a source of income for locals at heritage destinations, brings foreign exchange to the country, invites infrastructure development that benefits the local population, creates economic linkages, develops several options of revenue generation for the government and generally positively influences economic growth of the region and the country.
Jaipur-based travel consultant Garima Sharma says, "Tourism has many benefits. It allows growth of SMEs, increases export and the demand of local products and services and attracts foreign investment through hotel and food chains, related projects, etc." Garima had started a travel consultancy jointly with a friend to financially support their families.
"It was a preferred business choice for us in a place like Jaipur known for its rich heritage and high tourist footfalls. It wasn't an easy task to grow our business though, as the competition is tough. But over time, we created a niche for ourselves by promoting 'sustainable and environment-friendly heritage tourism options" which was appreciated. Just like any other economic activity, heritage tourism has its drawbacks too. "The biggest problem with heritage tourism is exploitation of culture and the native groups of the region," says Delhi-based anthropologist Savitha Nair. "It is only because of tourism-related activities that tribal groups face health risks, even extinction when they encounter tourists. The Jarawa tribe in Andaman islands is a case-in-point who have already experienced two measles outbreak reducing their numbers drastically."
Apart from exploitation, there are several other issues: environmental damage, lack of job security, invasion of outsiders in local economy, neglect of other economic sectors, unequal infrastructure development, seasonal nature of jobs, etc.
"It's not just that…we often have to deal with tourists who are inconsiderate towards locals and their culture and traditions. Such situations get more difficult to handle in conservative and traditional communities who are less tolerant of such rogue intruders," says Jodhpur-based hotelier Jaideep Singh.
Most people from the industry believe things will improve in the post-COVID world. Industry experts now expect more Indians to travel within the country due to restrictions on travelling abroad. The assumptions are welcome as it will revive and reboot the domestic tourism sector. The challenge remains; in fact it has increased, to ensure tourism and related activities are sustainable, in local interest.
However, only time will tell how the world will cope with and revive heritage tourism in the post-COVID world.
---
Comments
comments