India is the birthplace of many religions, like Hinduism, Buddhism, Sikhism, and Jainism, among others. Religion provides social cohesion to help maintain social solidarity through shared rituals and beliefs. But the definition of religion has changed over the years, and today's youth form their own beliefs based on principles of these religions which align to their own sets of values. Vyankatesh Kharage gives us a kaleidoscope of images which coalesce to form his version of religious India.
Holi in Vrindavan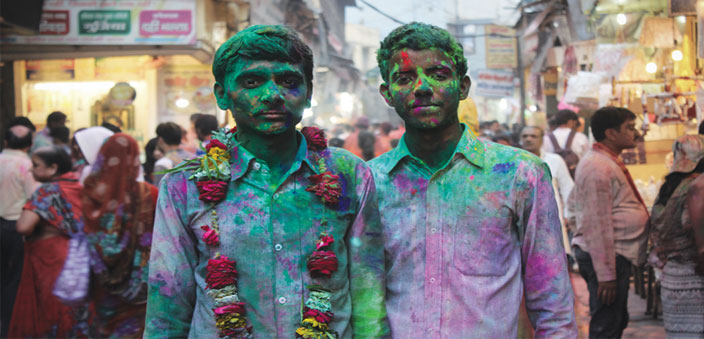 Holi in Vrindavan is a grand affair, and the Banke Bihari Temple is its epicenter. I came across these colourful drenched friends near the temple. Holi signifies the victory of good over evil, the arrival of spring, end of winter, and for many, a festive day to meet others, play and laugh, forget and forgive, and repair broken relationships.
A Sewadar of the Golden Temple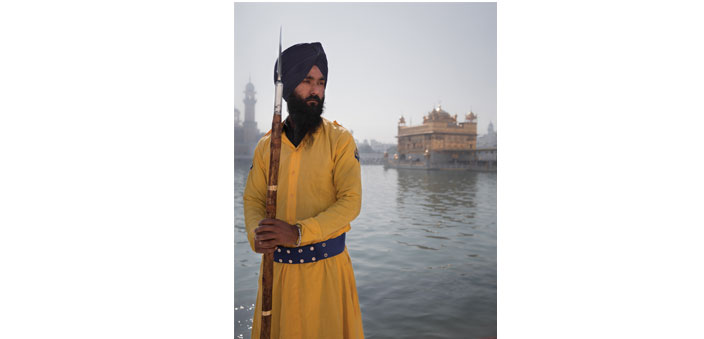 Holy Guards known as Sewadars are present at all Sikh Gurudwaras, and I came across this Sewadar at the Golden Temple in Amritsar. We spoke for a few minutes where he told me about Sikhism and the role of the Sewadars. They keep a vigil over the devotees following the guidelines for the Holy Dip in the Amrit Sarovar (holy lake). They are entitled, legally, to carry these conventional weapons, to represent as soldiers of their Gurus (10 religious masters of Sikhs)
The Golden Temple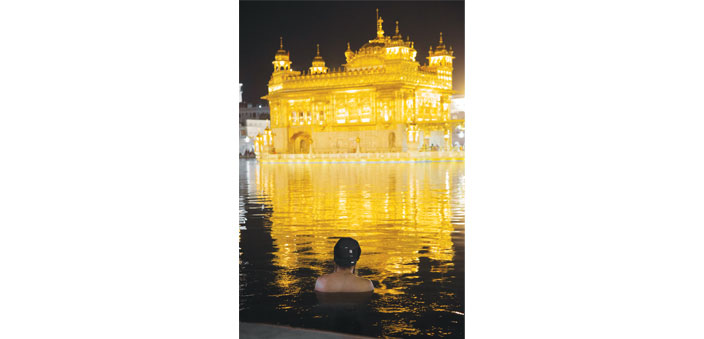 Sri Harmandir Sahib, also known as Sri Darbar Sahib or Golden Temple, is named after Hari (God). Before offering prayers inside the temple, the devotees have to take a dip in the sanctified pond inside the premises. It is believed that taking this dip not only keeps all kinds of diseases at bay, it even washes away one's sins.
The Peace Pagoda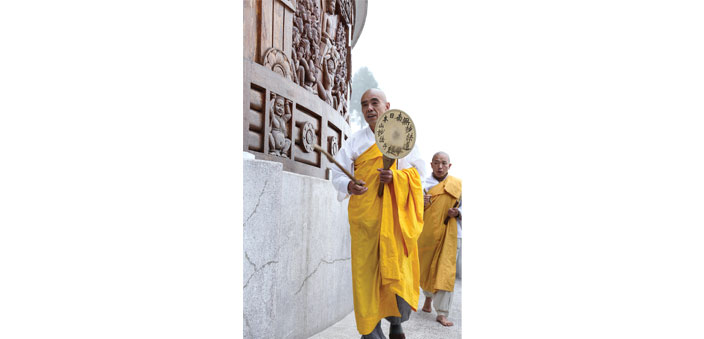 The Peace Pagoda is a monument to inspire peace, designed to provide a focus for people of all races and creeds, and to help unite them in their search for world peace. Nichidatsu Fujii, a Buddhist monk from Japan and founder of the Nipponzan-Myôhôji Buddhist Order, was greatly inspired by his meeting with Mahatma Gandhi, and decided to devote his life to promoting non-violence. Over 80 Peace Pagodas were built across the world, and were built as a symbol of peace in Japanese cities, including Hiroshima and Nagasaki.
This photo was taken at the Peace Pagoda in Darjeeling, where the monks were performing their evening rituals.
Radhe Radhe!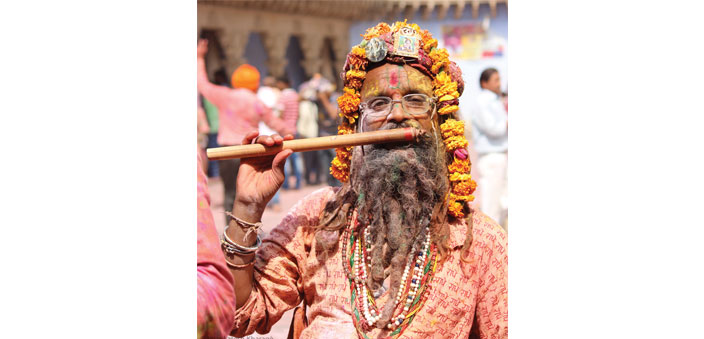 According to legends, young Krishna went up to his mother, Yashoda, and cribbed about Radha being fair while he was dark complexioned. Yashoda advised him apply to colour on Radha. So, Lord Krishna and his friends went to Radha's village, Barsana, to apply colour on Radha and the other Gopis. The Gopis used to beat them with sticks in a playful manner. The tradition continued over the years and is still celebrated as the 'Lathmar Holi' in Barsana and Nandgaon. Men from Nandgaon go to Barsana to tease the women. They in turn beat the men with sticks. These men protect themselves with shields. "Radhe Radhe!" you'll get used to greeting and being greeted when you are around Mathura-Vrindavan. I came across this ecstatic gentlemen dancing around the Nandgram temple. As soon as he saw me, he stopped, posed for a photograph, and then continued dancing again. Radhe Radhe!
The Buddhist monks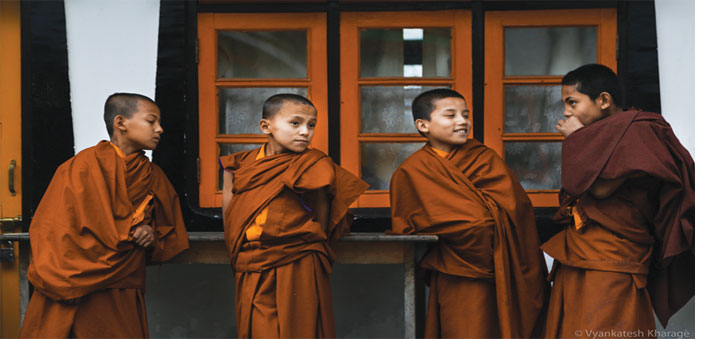 When a person wishes to join the Buddhist Order, he is first ordained as a novice. As a symbolic act of his renunciation of the worldly life, he is asked to shave off his hair and put on a robe appropriate to the monastic tradition, which he has entered. At the end of this period, the novice may receive the higher ordination as a monk (bhikkhu) or a nun (bhikkuni). This photo was taken at the Bhutia Busty Monastery in West Bengal. It belongs to the Red Sect of the Buddhist Lamas. The young monks' own unique personalities can be reflected in this shot.
---
Comments
comments