The Northeast of India is a splendidly endowed region, with beautiful vistas, vibrant culture, colourful and traditional attire and cuisine, and specific festivals which celebrate all that is best in the region, says Shikha J. Hazarika.
While one is aware of the pristine wilderness and diversity of India's Northeast (NE), few know about the rich cultural mosaic that makes this region stand out of the throng. Perhaps, this gives a strong reason to call Northeast India as an 'Unexplored paradise'!
It is a magnificent and tragic tapestry of people, events and nature. One can be touched by its rivers, rain and mist, overwhelmed by the seeming gentleness of its people, stirred by its powerful and evocative history. With not less than 220 ethnic tribes in the eight states of NE India, this region stood firm since ages in holding its own unique culture, folk forms, cuisines and crafts of each of these ethnic tribes.
And the variety of indigenous festivals belonging to these tribes has been a prominent representation of these people being deeply rooted to the soil and its traditions. Being an agricultural-based region, each of these festivals has a tale of its own, connected with cultivation, yet offering a colorful reflection of their land and traditional lifestyle. In fact, some of the states have come up with annual festivals which exhibit the indigenous culture, music, food, ethnic wear, sports, lifestyles of their different tribes, under one umbrella.
Let's take a stroll of the region with a glimpse of some very popular and well-admired festivals of different tribes from different NE states.
Mopin
With the potential to absolutely dazzle you by their dance, folk songs and local brews, Mopin is an agricultural festival of the Galo Adi tribe of Arunachal Pradesh, celebrating wealth and prosperity in the month of March or April every year. Where the Holi, is the festival of colour in the rest of India, the tribal groups smear the aura with rice powder. In this five-day long celebration, tribal people dazzle in their traditional costumes and organise the amazing 'Popir' dance, performed by the women. One key purpose behind organising this function is with a specific goal to head out the shrewd spirits, and to receive the blessing of God for universal happiness, as there are lots of traditional beliefs that still prevail among ethnic groups.
Lossong

'Lossong', an ethnic Sikkimese harvesting festival, is celebrated with traditional enthusiasm and fanfare in Sikkim. Earlier confined only to the Bhutia community of Sikkim, Lossong, which is also known as 'Namsoong', gradually spread to the Lepchas, and now, it is also celebrated across other minor tribes of not only Sikkim, but also Darjeeling and Nepal. This four days celebration is held at the Rumtek and Phodong monasteries mainly, marking the end of the Tibetan lunar calender, and beginning of the New Year. The colourful Cham dance performed by monks wearing traditional attires and masks, accompanied by traditional instruments, is the prime attraction. It undoubtedly makes for a great retreat, offering an unmatched spectacle of other traditional folk dances, religious rituals and ceremonies, and of course, a lifetime opportunity to gorge on the delicious Sikkimese cuisine.
Wangala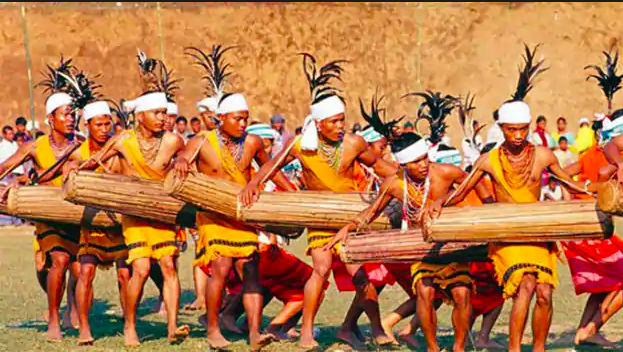 Famously known as the 100-drums festival of Meghalaya, Wangala is celebrated by the Garo tribe, which is the second largest tribal community of the region, the Khasi being the first. A harvest festival celebrated during the month of November, it is basically done to offer gratitude to Misi Sajong (The Sun God) for blessing the region with good harvest. The music using 100 drums (Nagaras), where men gather with their drums and create a harmonious rhythm that is followed by the dance moves, gave it an alternate name – 'The 100 Drums Festival'. Meanwhile, young men, women and old people dress in their colourful garments (Dokmanda or Gando) and feathered headgear, and dance to music played on the drums. Drinking Chu (rice beer), and also setting up stalls to sell goods that are made out of fish scale, wooden pieces, and other things, bring more colour to the festival.
Hornbill
Naga people have a rich tradition of maintaining their unique heritage and customs, and the much awaited 'Hornbill Festival' celebrated from December 1st to 10th every year is a defined form of it. Named after Hornbill, one of the most venerated bird species in the state, and also known as the 'festival of festivals', the Hornbill Festival showcases a melange of cultural displays of traditional dances, indigenous sports, and the folk songs of the various Naga tribes, under one roof. In the meantime, one can also get to see a colorful and vibrant celebration of a culture that's so mystic and intriguing that includes the warrior log drums, the colourful headgear, the soulful war cry, the exquisite costumes, etc., and are simply remarkable in their own ways. The chief purpose of the festival is to revive, protect, sustain, and promote the richness of the Naga heritage and traditions. Being held in Kohima, the biggest rock event is also a part of the vibrant celebrations. Apart from this, an adventure car rally and various other contest and events are organised during this festival. Among other attractions, the pork eating contest, the king chilly eating contest, etc., create massive enthusiasm among the visitors.
Sangai
A world-class festival that celebrates the culture and tradition of Manipur, the Sangai festival is one of its kind, where it features the best of what the state brings to the table, as far as workmanship and culture, handloom, handiworks and expressive arts, indigenous games, foods and music, eco products, are concerned. Named after the popular brow-antlered Sangai Deer, this festival is celebrated all across the state with an aim to spread awareness and educate the thousands of visitors about the rich cultural heritage of Manipur. Breaking boundaries, this fiesta has been witnessing participations from various other countries like Nepal, Sri Lanka, Bangladesh, Bhutan, Myanmar, Thailand, Indonesia, Japan, South Korea, Cambodia, Zimbabwe, etc. Among other unique events of this carnival, the adventure sports include kayaking, water trekking, and other adventure sports that have their origin in Manipur, are most popular.
Chapchar Kut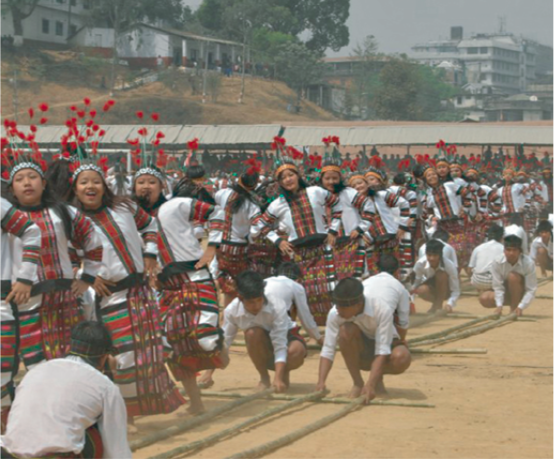 Mizoram comes to its full glory when it is time to celebrate the Chapchar Kut festival, the annual harvest festival of the state. A celebration held on March annually in anticipation of a golden harvest is seen to hold together people from various Mizo tribes on one ground. The sight of men and women in colourful traditional attires is truly hypnotic, and the assemblage of people for a huge community fest to sing and dance to the tune of flute, cymbals, drums and gongs, makes it spellbinding. Northeast India being resourceful in bamboo cultivation, the Mizo community during this festival is found making the best use of bamboo for a dance form called Cheraw, which features men tapping the bamboo sticks according to the rhythm of the dance, and women adjusting their dance moves in time with it.Notably, history says that this was the time that the bamboo forests were cut in order to provide space for seasonal farming. The word 'Chapchar' refers to the drying of bamboo sticks, and 'Kut' means 'festival'. One unique feature of this celebration is that those who take part in it are seen barefoot.
With such exceptional features, these vibrant and colourful festivals exude a great sense of mysticism and cultural euphoria, tempting anyone to be a part of it. These festivals are just a slice of the entire region and its richness, because each of the states with so many tribes and culture, alongside the breathtaking beauty, has a bag full of festival flavours to offer.
---
Comments
comments