Indian cities are reporting dangerously high levels of air pollution. Around 35 percent school-going children in Indian cities suffer from poor lung health due to breathing polluted air. Delhi tops the list of the world's most polluted cities, where almost 80 lives are lost daily due to pollution. In fact, 13 of the top-20 most polluted cities in the world are in India, says Nidhi Jamwal, ringing the alarm bell.
Indian cities, the engines of our growth, are choking the citizens on high air pollution, reducing their life expectancy, and destroying the health of the young children. Report after report, survey after survey (both national and international), show the ghastly manner in which suspended particulate matter (SPM) pollution is rising in the Indian cities and increasing the disease burden. Health experts and environmentalists are already warning of an emerging public health crisis if immediate and strict measures are not introduced to control the rising pollution.
No breathing easy here
Take the survey BreatheBlue'15, jointly conducted by HEAL Foundation and Breathe Blue as part of the Clean Air India Movement (CLAIM). Released four months ago, this nation-wide survey included 2,000 school students aged 8-14 years from various Indian cities and mapped the effects of air pollution on the breathing capacity of these young children using the Lung Health Screening Test (LHST). This test determines how much air the lungs can hold, how quickly one can move air in and out of one's lungs, and how well the lungs take oxygen in and remove carbon dioxide from the body. Poor results on LHST mean compromised lung function and high possibilities of contracting pulmonary diseases.
No wonder then in April this year, several doctors in Delhi had only one prescription for the patients suffering from severe respiratory problems – "Leave Delhi". Delhi's air, which is a concoction of various toxins and pollutants, was worsening the medical condition of city-residents, especially children, who cough and wheeze each night, warned the doctors.
The results of BreatheBlue'15 are extremely worrisome. Around 35 percent school-going children in India suffer from poor lung health with the national capital topping the list with 21 percent children having 'poor' lung capacity. The second worst city whose air is choking its children is Bengaluru (14 percent 'poor'), followed by Mumbai (13 percent 'poor') and Kolkata (9 percent 'poor').
This is not the only survey that has shown the grave impact of air pollution on the health of urban children. Another landmark study by Kolkata-based Chittaranjan National Cancer Institute, which spanned over three years and tracked 11,000 school children in Delhi region, found that key indicators of respiratory health, lung function to palpitation, vision to blood pressure, were worse off in children of Delhi (between four and 17 years of age), than their counterparts elsewhere, because of high air pollution.
"Leave Delhi"
No wonder then in April this year, several doctors in Delhi had only one prescription for the patients suffering from severe respiratory problems – "Leave Delhi". Delhi's air, which is a concoction of various toxins and pollutants, was worsening the medical condition of city-residents, especially children, who cough and wheeze each night, warned the doctors. Data from city-based hospitals is enough to ring the warning bells. For instance, the All India Institute of Medical Sciences (AIIMS) has seen a whopping 300 percent rise in respiratory illness cases between 2007-08 and 2013-14. The cases in Vallabhbhai Patel Chest Institute (VPCI), too, have shot up from 47,887 to 65,122 during the same time period. Private hospitals have reported an increase (up to 35 percent) in respiratory ailments during the winter months of October-December, when smog sets in, as against July-August last year.
The rise in respiratory ailments in Delhi corresponds to the rise of air pollution levels in the city. The respirable suspended particulate matter (RSPM) levels in Delhi have gone up from 201 micrograms per cubic metre (µg/m3) in 2008, to 316 µg/m3 in 2014, nearly 16 times what is considered healthy by the World Health Organization (WHO). RSPMs are tiny and toxic pollutants produced by vehicles and industries, which when inhaled cling to the lungs and cause various respiratory diseases.
Last May, the WHO, too, had voiced concern over the high air pollution levels in Delhi, when the capital was named the world's most polluted city in the 'Ambient (Outdoor) Air Pollution in Cities Database 2014' released by the health organisation. The WHO's database of ambient air pollution monitoring from 1,600 cities in 91 countries, covering the period from 2008 to 2013, found the annual average PM2.5 (particulate matter smaller than 2.5 microns) level in Delhi to be as high as 153 µg/m3, which is six times the WHO's recommended maximum and 12 times the US standards (see figure: The world's most polluted cities).
Can Delhi achieve another miracle?
It isn't that efforts have not been made in the past to clean the air in Indian cities. Delhi, at least, had a very strong movement against air pollution, which led to some significant results. In 1998, the Supreme Court of India ordered all public transport in the city to switch to compressed natural gas (CNG), a cleaner fuel as compared to petrol and diesel. This not only brought down pollution levels in the city, but also helped register a decline in respiratory illness cases. From a high of 409 µg/m3 in 1995, the RSPM went down to 191 µg/m3 in 2000, and then further to 161 µg/m3 in 2007. At VPCI, the number of OPD cases dipped from 51,694 in 2003-04 to 47,887 in 2006-07. However, 2008 onwards, things started to change and have now reached a stage when RSPM levels in Delhi are again high at 316 µg/m3.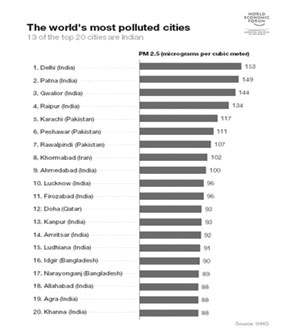 Environment organisations, such as New Delhi-based Centre for Science and Environment (CSE) that fought a long and difficult battle to switch city's public transport to CNG and implement other reforms, feel the advantage of CNG-switch have been lost due to the sheer number of vehicles that are added to Delhi's roads every day – i.e. 1,400 vehicles per day. Apart from the private cars, another source of pollution in Delhi is the daily exhaust of 80,000 trucks that keep moving in and out of the city during the night time. Most of these trucks are 10 to 20 years old and run on a mixture of diesel and kerosene, spewing toxins into the air.
The story of rising air pollution in other Indian cities isn't any different, as ownership of private vehicles is on the rise and emission standards are weak. "The current regime of vehicle technology, fuel standards, and high growth rate of private vehicles, is likely to nullify all the past emission reductions by the end of 2020s," warns a scientific study by Rahul Goel of IIT Delhi and Sarath K. Guttikunda of IIT Mumbai.
Another study published in Economic & Political Weekly has calculated that 660 million people in India now live in areas where PM2.5 levels exceed the country's national ambient air-quality standards. This is reducing people's life expectancy by 3.2 years. Yet another study reports that air pollution in Delhi kills approximately 20,000 to 30,000 people annually. This means 80 deaths every day due to pollution. And, majority of these are due to heart attacks and strokes, and not respiratory disorders. About 45 per cent of these premature deaths could be controlled if Delhi meets the national ambient air quality standard of 60 µg/m3 for PM2.5.
While health experts and environmentalists are raising a battle cry against air pollution, the Indian government and city-level authorities are yet to acknowledge the public health threat of pollution and formulate an action plan. Controlling the rising levels of air pollution in Indian cities will require some hard decisions and strict implementation. Any more 'wait and watch' gimmick will cost us the future, as the health of our children is already compromised.
---
Comments
comments