Trafficking of young girls across India-Nepal border is a significant problem. PROTECT (Prevention, Tracking, Education and Transformation), an initiative of Plan India and Plan Nepal is set to bring about sweeping reforms to better the lives of girls from poor and marginalised families, despite the challenges it faces. G. Venkatesh, gives us a low-down on how PROTECT plans to address the human trafficking issue across the border.
Any nation, or society for that matter, thrives if it knows how to respect its womenfolk. Truism? Platitude? Cliché? Yes, friends, it may well be, but has it sunk in as yet? Oftentimes, it is something which is 'gone with the wind', as soon as it is uttered and heard.
Respect for women begins at home, quite like charity. Someone once told me that the best gift a father can give to his son is to teach him how to respect women and also practise the precept so that the son can observe and emulate a 'walking-the-talk' dad. It is tough indeed, but one of the challenges a man ought to take up when he decides to wed and start a family. Not many tick all the boxes sadly. I may be washing dirty linen in the public, so to say, but yours sincerely had to self-teach himself while observing the contrary all the while. Perhaps that is what shaped my character and took me to Scandinavia which is known for its gender parity.
How Plan India and Plan Nepal plan to tackle the trafficking menace
India and Nepal have several things in common, apart from the dominant religion (Hinduism). The countries share a 1751 kilometre (porous/open) border, delimited by the Sugauly Treaty over 200 years ago between Nepal and the British colonialists. While open borders do facilitate trade and thereby economic growth on the one hand, it also has its drawbacks.
One of the ills is the trafficking of young girls across the border, by prostitution rackets in either country. Often, impoverished parents accept this as their fate, especially when girl children are considered to be a bane and not a boon – a decadent thought that has yet to be completely rooted out from the developing world. There have been social reformers all along who have laboured hard and long, with limited success.
Plan's PROTECT initiative – a cleverly coined acronym for Prevention, Tracking, Education and Transformation – is well-poised to bring about sweeping reform – gradually but surely and steadily, with the required grit and perseverance (Refer Table 1).
The aforesaid nexus which exist among entities – sometimes even the law-enforcers — is a veritable Gordian knot. But yes, if the tribe of the good keeps growing, and stands united and committed, anything desirable can be achieved.
Plan Nepal has its head office at Lalitpur to the east of the capital Kathmandu, while Plan India's activities are coordinated from New Delhi. In Nepal, PROTECT works in Banke, Sunsari and Makwanpur, while Plan Nepal, in addition to the said three locations, is active in Jumla, Kalikot, Dolpa, Bardia and Sindhuli. Plan Nepal's country director Liz Satow, tells the author that traffickers prey on the desire of girls and young women from poor and marginalised families in Nepal to seek a better future and on their willingness to travel overseas to earn their livelihoods. (The author has set up Varshita Venkatesh Girls' Education Fund with Plan USA in memory of his late wife) Satow fears that the ongoing COVID-19 pandemic will only aggravate the bane of deep-rooted societal and economic hardships, exacerbating the inequalities in the process, but assures that Plan Nepal is well-equipped with the means and the motivation to educate, protect and generate awareness among the girls in the country.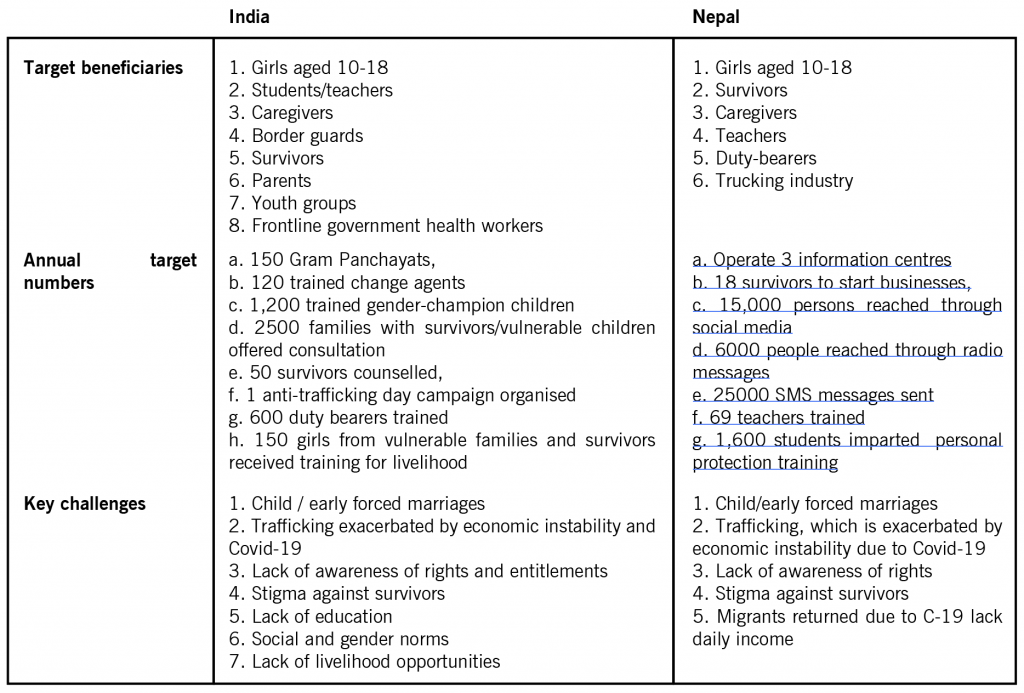 Talking of awareness, a female student of grade-8 in the Sunsari district of Nepal voiced her decision to openly object to anyone's inappropriate behaviour. She credited PROTECT's Sticks & Stones awareness building session for having developed in her the confidence to make up her mind on not being shy and silent as she used to be earlier. It is heartening that PROTECT's endeavour has received wholehearted support from young girls of Nepal, as Shanti Rawal, the Women and Children Section Officer from Banke informs. She is confident of receiving support from them to map out the trafficking risks in Banke.
In India, the initiative is active in six Indo-Nepal and Bangladesh bordering districts — in Uttar Pradesh (Mahrajagnaj and Siddarthnagar), in Bihar (Sitamadhi and West Champaran) and in West Bengal (Nadia & Murshidabad). Among the challenges to be faced is the unwillingness of parents to send their daughters to school. Sample this grievance from Priya (name changed) from Siddharthnagar district of Uttar Pradesh – "I have four elder sisters and one brother. I am the youngest girl in my family. My brother used to go to a private school, but as it was quite expensive, he now studies in a public school. Neither my sisters nor I have ever been to school. Our parents are just interested in giving us away in marriage and thereby stress on making sure that we learn how to do all the household chores." Parents of course admit that early marriage will shatter the dreams of their daughters, but they have their backs to the wall, and better alternatives are extremely difficult to find and implement, especially when crises like Covid-19 hit like bolts from the blue. However, it must be reiterated that educating both parents and girls is of paramount importance – a necessary but not sufficient condition to combat trafficking.
Plan International has a longstanding record in educating young girls in the developing world, and transforming the lives of many in the process. Knowledge is power and education is an investment.
Rehabilitating survivors – trafficked girls rescued and brought back home or to care shelters – is also very critical. Providing them with a means of livelihood and a sense of independence is a necessary follow-up activity. There are a few girls who often go on to spearhead campaigns, educate and empower other women in their neighbourhood.
COVID-19 has thrown many a spanner in the works, compounding the challenges faced while rescuing, educating and rehabilitating girls and bringing about systemic changes to totally eradicate trafficking in the future. Health and nourishment, psychological support and encouragement are all equally important. Plan India and Plan Nepal have well-equipped and highly-trained, devoted employees/volunteers who make sure that all corners are covered.
Signs of success
The ultimate signs of success emanating from Plan's efforts through its PROTECT initiative would ideally look something like this.
Children, families, communities and societies in India and Nepal have strengthened community-based prevention mechanisms against child trafficking, improved repatriation processes and are supported to reintegrate survivors safely.
Children and families can identify risks, conditions and consequences of child trafficking, actively take steps to protect themselves and report cases of trafficked children to the authorities.
Community social safety nets and structures are duly strengthened to prevent child trafficking, facilitate access to services, and support reintegration through child-friendly and participatory methods.
Both state and non-state actors have increased capacity to respond to child trafficking, to safely repatriate survivors and facilitate their reintegration.
How you can support
Readers keen on supporting this initiative financially or otherwise, may contact donorrelations@planusa.org or visit Plan International's website at www.plan-international.org for more information.
---
Comments
comments