What seem to us as bitter trials sometimes turn out to be blessings in disguise. It not only takes us down the path less travelled, it also brings to surface the talent that lies dormant inside of us. The three-month lock-down refused to pin down these restive individuals who discovered different dimensions to their creative craft and refused to be drawn into the vortex of negativity and depression. The entire realms of Art and Nature — from cherishing the canvas of nature to cooking, dancing, writing, and drawing – was explored to keep frustrations away. Moral of these stories: The real you stands up in adversity.
In the latter of March 2020, the lockdown announced by the government following an outbreak of COVID-19 abruptly brought our lives to a standstill. Hunkered down in their homes for nearly three months resetting their lives, the young and old, found time to connect with themselves or pursue hobbies even as they worked from home. Some sang… some danced. Some cooked, while others baked. Some knitted, while few others painted. Some did bird watching from their windows, while others participated in various challenges on social media – from posting best books they have read to the most beautiful places they visited. The social media was abuzz with display of talent show of all those who had discovered their new-found talent. Each one had found their own way of dealing with the 'new normal'.
Here, we bring a few positive stories of individuals turning the lock-down to their enrichment.
Art to spread positivity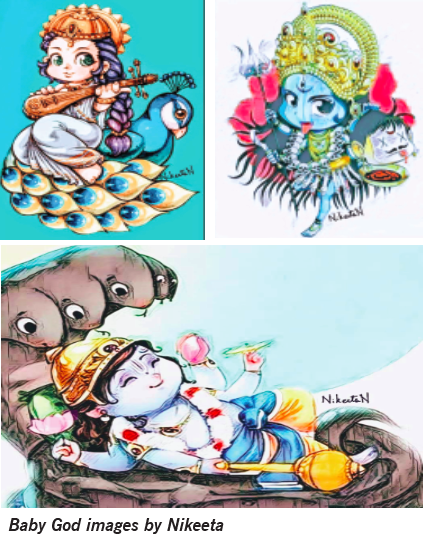 I'm an architect by profession and the lockdown in March 2020 forced an indefinite closure of all our sites. A school classmate and my aunt prodded me to start sketching again…it was my love in school days, but later as life got busy, it went on the backburner.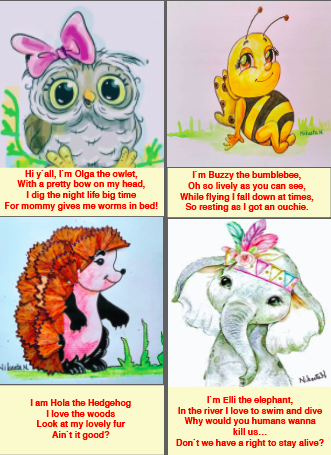 So, one fine day during the lockdown, I started sketching with limited material I had at home. It was a baby Krishna. I posted in on Facebook. It was loved by many and people asked me to do a baby God series. I decided to explore the same and sketched a few more …I looked at references and found I loved drawing eyes, the naughty expression on the faces and bring out an aspect of God we never thought we'd imagine.
---
Cooking up a story
Seventy seven days of being locked inside our home! No way, I shouted as conflicting thoughts and emotions raced through my mind. At first, both my seven-year-old sister and I protested. But as we began to understand the seriousness of the situation—an attack of a mysterious virus which had turned our lives topsy-turvy, we began to think of how best to deal with it.
The smart phones, the laptops and ipads, which were kept away from us (I was in the midst of my board exams and my sister was awaiting her school exam results) were brought out from their lockups. Our afternoons wafted with popcorn and instant snacks, and our evenings became resonant with board games and cards and karaoke and laughter. We binged on reruns of Mahabharat and Ramayan and discussed the episodes at night.
It wasn't all play though. Chores were assigned to each family member including the youngest. Study, work from home all this began in full-swing. My little sister taught us to dance. It was gruelling session daily as we tried to match her steps and energy. But also a lot of fun!
Slowly, our world adjusted to an online life – work from home, virtual sketch walks, online workshops – writing workshops, art webinars, a (science) story telling camp; even virtual birthday parties! Of these, the story camp led to a fine story writing 'CRABBY and OCTO' by my little sister. Looking back I feel triumphant that as a team we did it!
(Contributed by Arushi S. Short story 'Crabby and Octo' by her sister Mihira and illustrations by their mother Varsha)
CRABBY and OCTO
Once upon a time, there lived a crab called Crabby. He was not happy because he had no friends. The other fishes went to school, but Crabby did not go as he didn't have any friends. In the same ocean, there lived an octopus named Octo. Just like Crabby, Octo also didn't have any friends and didn't go to school.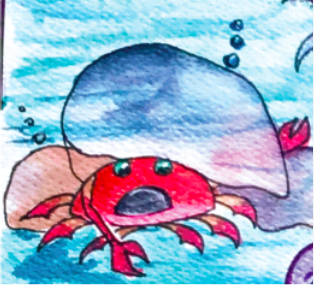 Octo often felt sad as he had no friends. One day, when Crabby was wandering in the ocean, a large rock fell on him when he was not looking. Crabby got stuck under that rock and cried loudly for help. Octo was swimming nearby. And he heard Crabby's voice. He immediately turned to Crabby. He told Crabby "Don't worry, I will save you from this giant rock. I have eight hands- I can easily lift this rock using them". Octo bravely pushed the rock aside using his strong hands. Crabby then could come out from under the rock.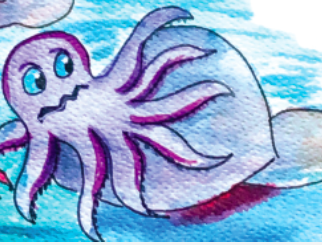 He said to Octo" I am really grateful to you for saving me. What is your name?" "Hi – my name is Octo. What is your name?" "I am Crabby. Can we be friends?" Octo replied "Yes of course! I am so happy to meet you, my friend Crabby!" Octo then told Crabby "I didn't have any friends till now, and that is why I didn't go to school." Crabby replied "You are my first friend! From tomorrow onwards, we both will go to school together." After that day Crabby and Octo went together to school. At the school, they met many fishes, turtles, octopuses and crabs. They both made many new friends. They were both happy as they were not lonely anymore. Crabby told Octo "Even though we have many friends now, you will always be my best friend." Octo said "Thank you Crabby! But please don't get stuck under a rock ever again!" Both Octo and Crabby laughed heartily on this, hugged each other and remained best friends forever.

---
Bird watching is what she did
For Madhuri Deshmukh, an avid photographer and birder, waiting patiently with her DSLR camera, looking out of her son's bedroom window that overlooks a Peepal is not something new. It has been her morning routine, every single day for more than five years since she started capturing exotic birds on her camera from her Vile Parle (east) home.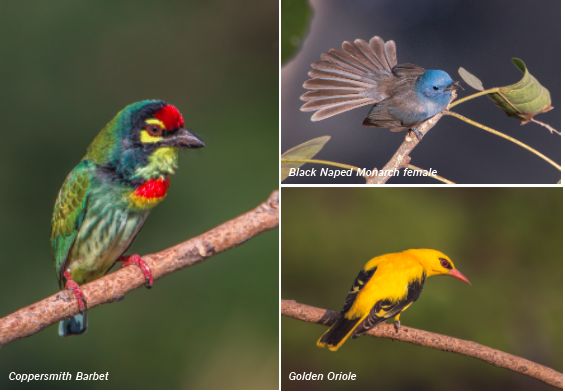 Says Madhuri: "The Peepal fruits all round the year, which attracts many insects, flies, butterflies, moths and bees and many species of birds that come feed on these insects. I have observed till date 102 bird species like flycatchers, warblers, Orioles to name a few.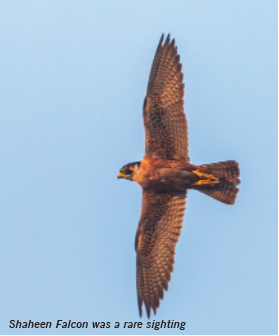 The clean air and no noise pollution during the lockdown was the best time this summer to watch these beautiful avians, who seemed in no hurry to leave the tree, she says. Summer is their breeding season, so one gets to hear bird calls all day, especially early mornings. I could shoot many birds at leisure."
Madhuri was a part of an SNGP team that has compiled a three-minute audio-visual (AV) on birds that can be identified in Mumbai's residential areas during the lockdown.
Comments
comments