The urge to make a change, led Aarti Naik to become a tutor to over 300 underprivileged girls in Mulund, Mumbai. She is a shining beacon for several other youngsters who could spearhead small projects in their own towns, cities and villages.
G. Venkatesh tells us her inspiring story.
It takes guts and supreme goodness, imbued with something bordering on the divine (which is said to reside within all human hearts), to dream of helping future generations to surmount those very obstacles which impeded you when you were young. This is obviously what parents would do for their children, but what about someone doing it for little girls not related to her in any way, apart from residing in the same locale and sharing the same environs? Meet Aarti Naik from Mulund, who is the founder of Sakhi for Girls' Education
India has a lot of catching-up to do
Today, the Covid-19 menace has derailed most of the strategies for sustainable development which countries had laid out for themselves before this year commenced. But come Covid or high water, efforts of individuals like Aarti will go on, reminding us one of Kishore Kumar`s memorable songs – 'Ho kitni andheri raat, diya ban jalte jaana re..usi raah pe rahi chalte jaana re.' (No matter how dark the night, you shine on like a lamp, and keep moving ahead along your chosen path).
All the nitty-gritties about Sakhi for Girls' Education is there to be read from the website2, . There are Youtube videos which readers may wish to view and take a virtual tour of the locale Aarti teaches in.
Adversities are powerful motivators. They are like Petri dishes in a laboratory on which you grow and culture ideas. Aarti Naik had to drop out of school over a decade ago, and just when the night seemed darkest, there was a glimmer of hope – Ashoka's Youth Venture. In 2008, she set up the venture – Sakhi for Girls' Education (the word 'sakhi' means a female friend, in Hindi and Marathi). Just that little flame of discontent, and the urge to make a change, led this changemaker to become a tutor to over 300 girls from her community in the north-eastern region of Mulund in Mumbai. Indeed, learning from a girl from the same community is a morale-booster and infuses little girls with a little more confidence. The willingness to learn, and the trust in the teacher comes about automatically, and Aarti without saying so, becomes their role model! She is didi — an elder sister to all of them, and that attitude towards your teacher is surely a strong enabler of education. Aarti rightly believes that the girls' mothers must also be educated so that they may be able to help their daughters at home later. This is a very progressive thought, a carefully-thought-out one, and when one considers that Aarti has been a student of psychology, one immediately understands that she is well aware of not just how little girls think but also how their mothers do, and how mothers can play a key role in this regard – education also begins at home, in a way, just as charity and generosity do.
Prerna (inspiration) from Prerna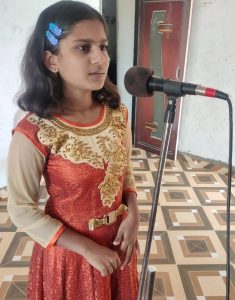 Aarti's pride in the achievements of her wards is heart-warming – the way she felt jubilant when she shared information about the trilingual audio-stories recorded by a student of hers – Prerna Ghodake, recently – this won Prerna a Changemaker Award from Generation Share UK. That is a sincere teacher for you.
Prerna is an 8th standard student and is very eloquent, gifted with a voice which enraptures and enlightens, educates and enlivens, and true to the meaning of her name (in Hindi and Marathi), inspires most of all! The stories she narrates entertain over 5000 girls in slums in Mumbai. Prerna is motivated to come up with new stories to record every day and surely, her fans – the 5000-odd girls are keenly waiting for the audio, when they wake up in the morning each day. Aarti is just 27 years old, and she has already thought of someone to pass the baton to, at a later stage, and that is Prerna. It is commendable that at such a young age, she is also concerned about grooming her successor.
Pain prepares the path to progress
Motivations which are strong and unassailable often have a poignant element too. Owing to the inability of her parents to put her through higher education, Aarti herself could not do so, but that did not deter her from conceiving this brilliant and blessed idea of 'capacity-building within the slums, by imparting basic literacy and numeracy skills, which little girls there could capitalise on, and grow up to stand on their own two feet, be employable and also be in a position to educate their own children at home.
Big and meaningful projects are almost always conceived by 'one-man/woman-armies', before recognition draws like-minded do-gooders to support it. What is needed is that leap of faith, which Aarti took in 2008, and very humbly sought and got support, guidance and inspiration from around the world. However, it is still not. Arise, awake and fait accompli for her. She wants every girl in every slum in India, to get access to basic education, and here, she is a shining beacon veritably for several other youngsters who could spearhead small projects in their own towns and cities and villages. While she looks up to experienced do-gooders for inspiration, those who wish to emulate her could look up to her for the same.
Aarti's rise to popularity is well-deserved. In 2018, she was felicitated at the University of California (Berkeley), by the Institute of South Asia Studies. Two years prior to that, her initiative was commended by the International Literacy Association. The same year, Femina felicitated her at the Femina Women's Awards ceremony. The Thriving Women in Business Giving Circle based in San Fransisco sponsors Sakhi's efforts for the cause of slum girls' education in India.
The future is female
A young student of English literature in Mumbai – Masooma Sakriwala – had recently shared with me some slogans which she had come up and one of them was 'The Future is Female'. I am a man, definitely not a chauvinist…and I will be happy if the future is described thus. This world will be a safer place in the hands of our mothers, sisters, wives and daughters. Girls with minds of their own, would evolve into ladies with hearts of gold and thereafter women with beautiful souls.
Aarti Naik needs to be supported in her venture consistently and she is surely destined to scale new heights in the future. The surfer-friendly website will enable readers interested in donating to Sakhi to do the needful. Young girls out there in university – if you are keen on volunteering as tutors, and helping out Aarti, feel free to get in touch with her. There is a lot to be done and sustained for sure and all of you could form a small army of dedicated young.
---
1http://sakhiforgirlseducation.org/
2https://www.facebook.com/SakhiForGirlsEducation.India
3http://sakhiforgirlseducation.org/donate/
4Aarti can be contacted at aartidnaik@gmail.com
G.Venkatesh
G. Venkatesh is Associate Professor, Department of Engineering and Chemical Sciences, Faculty of Health, Science and Technology, Karlstad University, Sweden. He is also a freelance writer for several magazines around the world.
Comments
comments