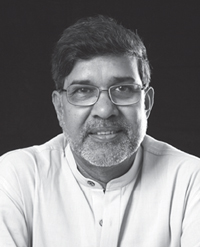 The Nobel Peace Prize for 2014 has been awarded jointly to the young Pakistani activist Malala Yousafzai and Indian social activist Kailash Satyarthi "for their struggle against the suppression of children and young people and for the right of all children to education". Satyarthi is the fifth person from India to win a Nobel Prize (though there are others of Indian origin who have won), and the second to win the Nobel Peace Prize after Mother Teresa.
Originally named Kailash Sharma, Satyarthi was born on 11 January 1954, in the Vidisha district of Madhya Pradesh. After finishing his post-graduation in engineering, he joined a college in Bhopal as a lecturer, which he quit in 1980 to join the Bonded Labour Liberation Front. Subsequently, he founded the Bachpan Bachao Andolan (Save Childhood Mission), which has so far freed over 80,000 children from various forms of abuse and helped in successful rehabilitation and education of these children.
Satyarthi has also been involved with the Global March Against Child Labour and has also served as the President of the Global Campaign for Education, from its inception in 1999 to 2011, having been one of its four founders along with ActionAid, Oxfam and Education International. In addition, he established GoodWeave International (formerly known as Rugmark) as the first voluntary labelling, monitoring and certification system of rugs manufactured without the use of child labour in South Asia. Satyarthi has always highlighted child labour as a human rights issue.
While congratulating him on winning the Nobel peace prize, we reproduce a still-relevant article on child labour written by him for the July 2011 issue of One India One People.
Despite several constitutional provisions and laws that safeguard the rights of all children, India has the dubious distinction of having the largest number of child labourers in the world. If one were to believe Government's estimates, there are about 1.20 crore economically active children below the age of 14. However, non-governmental sources estimate a staggering 6 crore children engaged as labourers across the country. Almost 70 per cent of these children work in the agricultural sector, while the rest continue to languish in the informal and unorganised sectors like garment, embroidery, carpet weaving, glass bangles, brass ware, shellac jewellery, sporting goods, leather, plastic goods, stone quarries, mica and coal mining, tea plantation, brick kilns, construction sites, roadside restaurants and domestic work.
Breeding ground for cheap labour
India is the breeding ground for worst forms of child labour. At least one crore or one out of every six child labourers is trapped in slavery as bonded labourer. Tens of thousands of children are trafficked from one state to another on tall claims and false hopes of a decent life. Several others are trafficked across the national borders. India is known to be a destination for a large number of Nepalese and Bangladeshi children. Child prostitution, child marriages, Devdasis, forced amputation and beggary, children misused or abused by militant groups, are some of the many forms of contemporary slavery that widely persist.
The push factors behind this social evil include abject poverty, illiteracy, lack of awareness, gullibility of parents, child un-friendly mindset prevailing in the communities, sociocultural discrimination, gender bias, poor outreach of legal safeguarding and ensuing development, absence of or poor educational facilities, State's incapability to effectively handle natural disasters like flood, earthquakes, droughts and famines, development disasters like deforestation, mining and displacement, are largely responsible for children falling prey to child labour. On the other hand, the insatiable greed on the part of employers who always scout for vulnerable, docile and cheap workforce, prevalence of corruption and apathy among the law enforcement agencies coupled with connivance between traffickers and employers, are some of the key factors that pull children towards labour.
Children are preferred over adults because they are unable to unionise, they do not demand decent pay and never do they resort to strikes despite all sorts of abuses and exploitation. We should remember that each child is employed at the cost of an adult's job. India has 6 crore child labourers and about 6.5 crore unemployed adults. Several studies have revealed that most of the jobless adults are the very parents of full time child labourers. This is a vicious cycle. No country could ever possibly solve the problem of poverty, unemployment and illiteracy without eliminating child labour.
Globalisation, privatisation and liberalisation have fuelled the massive demand for cheap and docile labour in production supply chains. Similarly, the ever-expanding middle class is always on the watch out for a poor and docile child to employ them as domestic help for looking after their own children, besides performing the usual household chores without a whimper.
A common notion that ubiquitously prevails is that poverty is the root cause of child labour, but it is a half baked truth because the fact of the matter is, that child labour creates and perpetuates intergenerational poverty. Child labourers are cursed to reel under poverty for the rest of their lives. In most cases, inhuman working conditions severely affect children's tender organs thereby drifting them towards occupational diseases. Children engaged in agriculture are exposed to pesticides, insecticides and heavy machinery. Such children gradually acquire incurable ailments and often meet with accidents that render them physically crippled. Many children handling toxic chemicals in factories and workshops are susceptible to similar risks. Children producing fire crackers to amuse and entertain others more often than not meet with devastating accidents. Sivakasi, Virudnagar and Sattur are infamous for such accidents. Similarly, children working in stone quarries and mines are diagnosed with tuberculosis and silicosis. Thousands others are compelled to work under inhuman conditions in glass bangle factories of Firozabad and brass and metal workshops in Moradabad, Aligarh and Delhi, only to burn their lungs and little fingers.
I have personally come across thousands of cases where children weaving carpets in Mirzapur-Bhadoi belt were diagnosed with incurable lung diseases that cut their lives short, unfulfilling their dream to sit on the plush carpets that they produced. Children stitching footballs and other sporting goods seldom get an opportunity to play with them. Those slogging endlessly in garment sweatshops never get to see their mothers and sisters adorning the beautifully and intricately embellished ensembles produced by them. What a shame!!!
Gross violation of laws
Prevalence of child labour is nothing short of utter disrespect not only towards the Constitution but also towards all the International Declarations, Treaties and Conventions that have been promulgated in the past. Child labour and slavery are the worst of human rights violations. It is a crime and a social stigma. Child labour is the biggest obstacle in the way of education and development. It is a slap across the face of civilisations, cultures and religions. Child labour is an evidence of serious lack of political will and social concern. Child labour denies freedom, justice, dignity, equal opportunities and fulfilled childhood, simultaneously endangering child's present and future.
India has several legislative provisions aimed towards children. There is a specific law: Child Labour (Prohibition and Regulation) Act, 1986, which is highly objectionable and incomplete. It does not prohibit all forms of child labour, thereby posing serious contradiction to the recently passed Right to Free and Compulsory Education Act, 2010, which calls for compulsory schooling for all children up to the age of 14 years. How can one law be in contravention to the other law that allows children to remain at work places instead of classrooms?
Juvenile Justice (Care & Protection of Children) Act, 2000, is yet another law aimed at safeguarding the interests of children by guaranteeing freedom and childhood up to the age of 18 years which again locks horns with Child Labour (Prohibition and Regulation) Act, 1986, that defines a child as a person who has not completed 14 years. Similarly, the Bonded Labour System (Abolition) Act, 1976, prohibits any person from being employed as bonded labour. There are a plethora of other acts like The Factories Act, 1948; Shop and Establishment Acts, The Minimum Wages Act, 1948; The Contract Labour (Regulation and Abolition) Act, 1970; The Mines Act, 1952 and so on that make references about child labour. Additionally, several landmark judgments have been pronounced by the Honb'le Supreme Court and State High Courts bearing implications on the issue of child labour.
Ironically, there is a gross violation of all these provisions across the length and breadth of the country. Enforcement continues to be the biggest challenge which directly stems from political/administrative will and competence and capacity of the Labour Inspectorate System. Inadequate resources and the issue of non-assignment of responsibility and accountability further wreak havoc on account of feeble enforcement of laws.
There is hope ahead
There are many success stories and vicarious experiences towards eliminating child labour that are worth applauding. It is heartening to see that the civil society is highly proactive in challenging the statutory authorities and businesses thereby holding them accountable for their actions or inactions. The Government as a result of surmounting pressure exerted by the public on various occasions has been compelled to amend the existing laws, enacting new legislations and launching new welfare schemes specifically aimed towards the wellbeing of children. Consumer campaigns have brought the mighty multinationals on their knees for implementing effective CSR strategies. The carpet industry is a good case in point, where successful interventions such as social monitoring and labeling, community awareness and legal actions could bring down the number of child labourers from over 300,000 to as low as 80,000. Initiatives like school enrollment drives and mass mobilisation have created a new demand for education among the poor even in remotest areas. Raid and rescue operations by Bachpan Bachao Andolan have generated unprecedented mass awareness and media interest besides judicial intervention and unrelenting pressure on the Government.
India has tremendous potential and possibilities to eradicate child labour only if a concerted and integrated approach is adopted with a genuine political will. As mentioned above, there exists a vibrant and agile civil society and there are significantly effective and important welfare schemes like MNREGA, Sarva Shiksha Abhiyaan, midday meal provision etc., that are aimed towards the wellbeing of children and the greater good of the communities. It is therefore the dire need of the hour to build and institute a strong, collaborative, and integrated approach that can take on the issue of child labour with an utmost sense of urgency.
Comments
comments