What does freedom mean to a person who may be disabled or a wheelchair user? A young student, Dhruv Shirpurkar, decodes freedom and accessibility after talking to three disability rights women activists, about their own experiences negotiating the Indian society and space.
Freedom is for all, it is everyone's right. Yet we see in every era, a particular community losing its freedom. In this era, individuals with disability are losing their freedom. The meaning of freedom is always taken in the context of social and natural factors. We are free to do whatever we want to do, but only within certain limits. The limitations on freedom change with time, especially natural limitations. Though this is easier said than done for people with disabilities. Discrimination and prejudices not only destroy everyone's freedom to live a dignified life, but in certain cases, their very existence. Freedom for me as a person with disability is to be who I am and live my life with my adaptations as it is. In a bid to understand my definition – which includes overcoming social stigma, and inaccessibility to places, which encroaches upon my freedom – I interviewed three leading disability rights activists.
The accessibility activist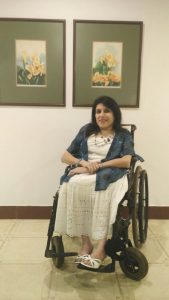 The first person I talked with was Nirmala Kevlani, who is a prominent accessibility activist. She has won many accolades, and is the winner of Miss Wheelchair India 2013. Fondly known as Neenu, she has also written articles for many newspapers like The Indian Express, and is also a motivational speaker.
On a sunny afternoon, I called her and we began discussing freedom. I was met by a cheerful and free spirited voice. Neenu is a jovial, fun loving, and a people's person, something that her friends and family agree with. The conversation flowed smoothly. The usual greetings later I began by asking her to tell a little bit more about her work. " I mostly work on accessibility in public spaces. There are many barriers that individuals with disabilities face, like education and societal attitudes, but having no infrastructure is a major source of distress.
Inaccessibility affects not only individuals with physically disabilities, but also pregnant women and the elderly." She highlighted the fact that this affects a person's sense of freedom, and has a detrimental effect on education, employment, and day to day activities. It becomes a challenge for family and caretakers also. She works with builders and architects to include accessibility in their projects.
I tried to understand what freedom means to her . Neenu say, "For me as a woman, freedom means moving without fearing for my life – When I get up in the morning I should not have fear as the first thought in my mind – and being able to live independently and with dignity." Freedom has its own limitations and costs. I asked what she thinks causes this. She says that when it comes to overcoming yours fears and troubles, the cost of freedom is overcoming your own demons. Disabling fear and prejudices are the only restrictions on freedom for Neenu.
When asked about what message she would like to give to others, she said " Open minds and hearts. Accept everybody not just individuals with disabilities. For me compassion is more important than being progressive, and I would like to tell women to accept us (women with disabilities), as we too are in the same boat as you." She also calls out to women to fight against injustice as this is the only way the Indian society can become a better place for women.
The one who reclaimed her freedom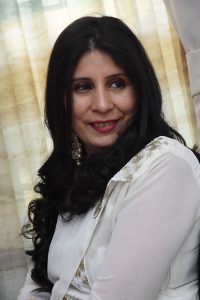 Moving on, I came across Neenu's friend and fellow activist Sunita Sancheti. Neenu and Sunita have worked together in various organisations, and have been a part of the 'Beyond Barrier – The Incredible India Tour', which was a project to review and increase awareness about accessibility in the entire country.
Sunita's journey as a disability activist began with a spinal injury at age 17. The disability that followed made her feel that she had completely lost her freedom, as she had to be dependent on someone for her daily chores. What was most disturbing for her was that after rehabilitation, was the sheer lack of infrastructure which made her discontinue her education. She decided to work on this. " I realised then the need to make places barrier free. Lack of infrastructure is the main cause of people with disabilities losing their freedom to do whatever they want. My wheelchair doesn't make me disabled, but lack of infrastructure does."
She also provides counselling to people with spine injuries at the NINA Foundation. She has also won a silver medal in badminton at the first Maharashtra State Paralympic games.
Bringing in a fresh new perspective to freedom, she highlighted something all of us can connect with. " Freedom for me is the ability to do whatever I want to do with my life, and not let others make decisions about my life and career. Their advice is enough." Sunita believes that financial freedom is very important. "Some individuals with or without disabilities misuse their activism. They do not do any work and seek funding for their living with the excuse of activism. This for me is seeking charity where no such thing is required. Financial freedom gives me the confidence and security to do activism. I am not dependent on anyone or have to show results of my work to somebody who is not willing to be a part of the change." Freedom has different meaning for others and we need to accept it, she says.
I asked her what changes she would like to see in the society. She replied that she wanted people to be more sensitive to others. "People are hardly sensitive to the feeling of others like employees. They too seek freedom from disrespect and equality. Gratitude is what we all seek, and that is the very thing Sunita means by being sensitive.
She agrees with Neenu that limitations on freedom only exist in our mind. In order to overcome these limitations, Sunita feels that it is important to accept yourself as you are. Who can say this better than her in a society where disability is looked down upon, and where people with disabilities are expected to be ashamed of their existence?
Sunita attributes her smooth transition towards activism, her success and her being able to overcome social prejudices, to her friends and family. "My friends have always treated me with respect and supported me. My disability was no big deal for them and they even joked at times when a bit of sympathy might be required." She recalls that when she underwent a major surgery, they joked about their share in her will instead of giving her words of moral support. She also tells me that her niece fondly calls her a panda because of her humble nature. Everyone in her family says that not only is she inspirational, but a very good confidant.
The 'My Train Too' campaigner
I would like to conclude with a talk with Virali Modi, a very prominent disability activist. She is most well known for her 'My Train Too' campaign. She first rose to prominence in 2014 when she was the runner up for the Miss Wheelchair India Pageant, and has since then spoken at various TEDx events.
Her activism began as a result of being molested thrice while taking assistance from porters at railway stations to go inside the train. "I started a campaign on Change.org for making train accessible in India, and after getting two lakh signatories, I was able to make six stations in Kerala accessible". This experience of Virali highlights what Neenu said earlier about being able to live and move around with safety and dignity. Lack of accessibility poses a grave threat for people with disabilities, especially women.
Virali sees freedom in a much broader perspective. "Freedom for me is inclusion and being treated like others regardless of my disability. Freedom for me is also not having barriers which would prevent me from being included." She says that freedom can only be achieved when "A day comes where we all realise that we are all humans, a day when all stigmas and barriers will be overcome, and all segregation based on discrimination, even inadvertently, ends."
Virali shared an experience of her initial years dealing with her disability where she attempted suicide twice, because of the change she had underwent. After significant counselling and support from her parents, she was able to overcome her depression. This was to prove a major turning point in her life allowing her to become what she is today." I believe that I have some purpose for my existence on earth, and the day I find it, I will experience true happiness."
Espousing Sunita, she says that to gain true freedom and a sense of purpose it is necessary not to give up, and to overcome difficulties with a smile on your face. "Life will throw many curve balls at you, but all that matters is your perception and willingness to free yourself from your own limitations."
The conversations I had with these three ladies have widened my perspective of freedom. Freedom, as is popularly conceived, is not always about ability to do whatever you want or that somebody else encroaches on freedom. Sometimes life is about overcoming your own limitations and creating your freedom.
---
Comments
comments