Durga Kainthola has a multi-layered perspective on life. She views life through tiny bits of coloured glasses of her imaginary kaleidoscope. Sometimes, she looks at her inspiration through a prism with light refracted not in a straight line, but with a break. She has an immense capacity to move backwards and forwards through time, place, subject, media and technology, with the fluidity of the free-flowing waters of a river that knows no borders. Yet, she can anchor herself to a subject close to her heart at any given point of time, seamlessly. She is a practicing artist who, over the past 25 years, has been constantly renovating and reinventing herself through different realms of art. She has held umpteen exhibitions, beginning with group shows, and moving to individual exhibitions across the country and the world. She spoke extensively about her art to Shoma A. Chatterji.
Let us hear about your formative years in art.
I was born in Kolkata but am originally from the Garhwal district of Uttar Pradesh (now Uttarakhand). The family shifted to Mumbai and I joined the JJ School of Art. For my first exhibition, the subject was footprints. "Footprints for me then, represented the human form – the part suggesting the whole, metaphorically and figuratively. A chance visit to Juhu beach brought the focus. I saw a man walking out of the sea. He had left his footprints on the sands till the waves washed them away. I felt I had found my destination. Before that, I explored the entire universe of landscapes, portraits, heads, still life, abstracts and nudes. Then, the tragic death of a close and brilliant friend drove me to move around the theme of 'Death' in oils and in graphics.
What about your sojourn at the M.S. University in Baroda?
I did my post-graduation here. I picked up narrative work, and using oil on canvas and water colour on paper, studied under the empathetic guidance of Nasreen Mohamedi. The figures I painted sort of floated in space, and were experimental in nature. I built an intellectual relationship with Mohamedi who had a way of understanding the need of each individual student, and guided them accordingly. My journey at the M.S. University was a fine blend of ability and innovation. I believe that my art has liberated me from mundane ties of common life while keeping me tied to these very values and emotions that make life and art meaningful.
How did marriage and motherhood change you?
Marriage and motherhood have made me a different and much stronger person. After marriage, I surrendered myself to God. I began to ignore every thing around me and concentrated on my work. Home and career both are my priorities. Maintaining a balance between the two took some time but my total faith in God saw me through this phase of coping. My philosophy lies in the Gandhian dictum of the three monkeys –'see no evil, speak no evil, hear no evil' – and that helps me sail through my hassles. My three kids, one boy and two girls, are now grown up and fine-tuning their own careers, and I am free to follow my own religion – art.
After all these years, how would you define the term 'art'?
Art is an expression of my thoughts. Myriad images are transformed, consciously or sub-consciously, the worldly experience becomes an integral part of the actual metamorphosis that renders new meaning and depth to every creation over time and space, colour and light, plane and dimension, music and rhythm, history and infinity. Today, thanks to public awareness about art, spectators understand the meaning of art. It is a much wider horizon today than it ever was before. Art is not just about subject, it goes beyond the frame, the colour, the space, the light, the subject. It is like a poem which is an expression that each one reads different meanings into. It has a language achieved with years of experience. It is like Braille, a language whose essence is known only to people who are without sight, who look at the world outside through the blackness that defines their lives.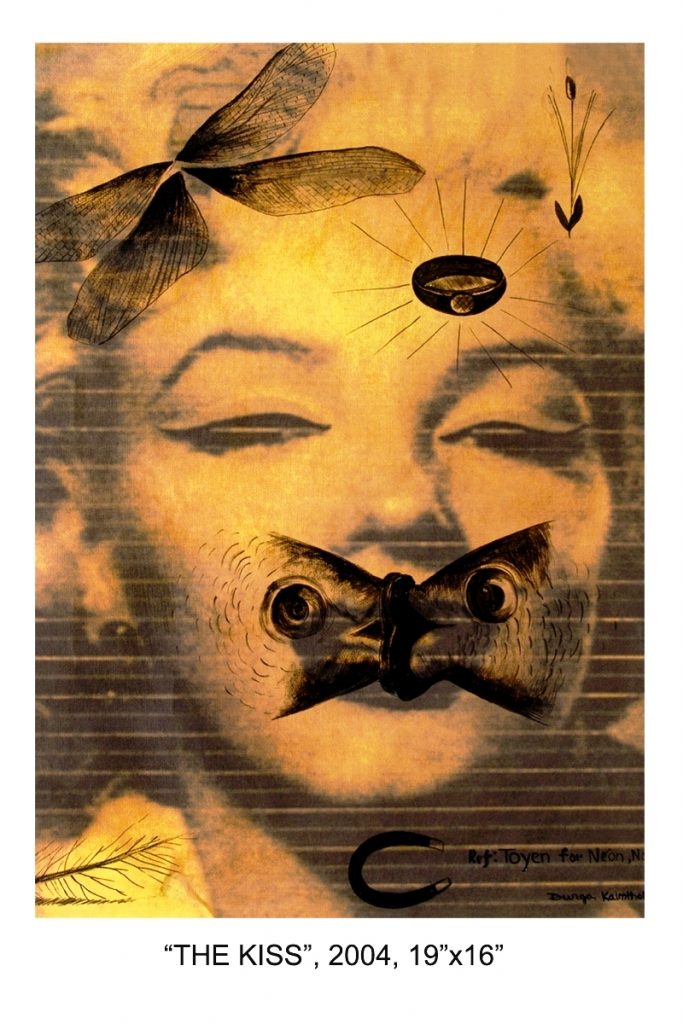 What was the first turning point in your life as an artist?
My first turning point as an artist came during the 1989 Master of Fine Arts Finals Exhibition at Baroda, when Tizun Patheria, a noted art collector from Mumbai bought a few of my paintings. By the end of the exhibition, only a few of my works were left unsold. When I came back to Mumbai, I went on looking for a subject and the footprint works happened. This was followed by a two-year stint working under Keikoo Gandhi of Gallery Chemould in Mumbai, to come to terms with the contemporary art scenario. I found myself slowly moving from the abstract to the figurative, and allowed myself to be carried freely by the waves of change that swept over my creativity and innovation. Tina Ambani invited me to participate in her Harmony Show in 2000 and bought my large painting Mother and Child.
You moved to digital in 1999. Let us hear about it.
In 1999, out of curiosity, I bought a computer, a scanner and a printer and began to experiment. I took a portrait of myself, turning myself into both object and subject. I took fifty prints of the same image spontaneously, and was sure something new would come out of it. This led to a series called Pages from my Notebook. I began to draw my thoughts and experiences over the printed image literally like in a diary, and this began my new journey of using portraits as the central character harking back to miniatures – Indian, Byzantine or Persian. I painted portraits of Frida Kahlo, the Mexican artist whose works were an inspiration. A set of four out of these were exhibited and the entire set was sold. I then moved on to digital prints on canvas and began painting images from history, art, popular culture and images of celebrities from all walks of life.
What about your Art Factory?
My works under the Art Factory are different from my style and approach. The works are a blend of illusion and reality, and it is difficult to point out where one ends and the other begins. Seemingly controlled, at once riotous, playfully irreverent and alluding, these works compose illusion and reality. Trans-conceptual flashes of allegory resonate and push open the portals of perception is how Elizabeth Rogers chose to define it. The works spill over with a spirit so dynamic that one just cannot but get sucked into it. This began in 2001.
This is your most unique project over your long creative period as an artist. Do you agree?
Through my series on Andy Warhol, Marylyn Monroe, Frida Kahlo and others, I try to draw my viewers into a dream world where the past and present, soft and hard vocabularies intermingle, separate and then fuse, without rhyme or reason. Vision is drawn from within the spatial nature of infinity and timelessness. The Art Factory may be summed up as a visually stunning political and social comment on the fragility of the world today through artistic expression. It is radical, contemporary and universal, cutting neatly across man-made barriers of time, space, language, line and colour, and even subject matter if one may be permitted this extension.
Does an artist bear a social responsibility towards lovers of art?
An artist depicts social subjects, because by nature, an artist is compassionate. But whether he wishes to create social awareness or to paint what his conscious and sub-conscious mind directs him to, is entirely up to him. No artist is constrained by any rigid definition. Art being a freedom of expression and most artists being believers in pluralism, at any given point of time, he follows just one mode of expression like the avant-garde or bourgeoisie, etc. An artist is a sensitive being, he is disturbed by suffering, natural calami- ties, death etc., but the choice is for him to get immersed in the world around him or follow his instinct. If he does not paint the Tsunami does not mean that he is not affected, there is turmoil within him and he finds a way to depict this within his own parameters of self-expression.
Does criticism depress you?
I don't get carried away if someone appreciates my work. Nor do I think ill if my work is criticised. I have learnt a great deal from critics. They represent the common man and woman and we, as artists, have learnt about art and its linkages to life, so they too will learn to think like we do, one day.
---
Comments
comments