Mayi Gowda, 42, runs the largest second hand book store of the country in Bangalore. Even more important, it is perhaps also the most loved bookstore with its legion of fans and regulars who come browsing into this friendly and pleasant paradise for book lovers. Starting out from a pavement, today he owns two brick-and-mortar stores, which seem a contradiction in today's world of e-books and online retailing. E. Vijayalakshmi Rajan spoke to Mayi Gowda to understand what he's doing differently.
Tell us about your early days.
I am from a village near Mysore and from an agricultural family. I did my schooling in the village, but came to Mysore to do a Diploma in Engineering from a polytechnic. I came to Bangalore in 1995 to pursue further studies in Engineering. I finished it and joined a private company, but worked there less than a month. While pursuing Engineering, I was also selling second hand books on the pavement, to earn some money and help my family. When I decided to leave my job, I took up book selling as a full time job. I opened my first book store on Church Street in 2002.
Golden Blossom!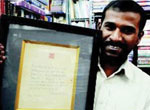 On the wall of the Blossom Book Store hangs a framed letter by Nobel Laureate Rabindranath Tagore, handwritten to an unknown person thanking them for a gift. The letter is dated 17th December, 1931, the year that Tagore turned 70. Mayi Gowda found this letter inside a book he had purchased from a South Mumbai book store. The book was the limited edition 'Golden Book' which was released on Tagore's 70th birthday with tributes to him from renowned persons from around the world. This letter is a small part of history, a possession of which Mayi Gowda is very proud.
Tell us about your first book store.
It was a 200 sq. ft. space in a building in Church Street, and I started out with 1,500 books. When customers came to the shop, I would have to step out due to the paucity of space! From here, in 2004, I moved to a larger space, a 400 sq. ft. space in the same building. And about six months later, we moved to the much larger, 2,500 sq. ft. location on Church Street itself. The book store is called Blossom Book House. We started out with second hand books only, but now we keep new books too.
What's the unique aspect about your book store?
We keep a wide variety of classics and second hand books, which are much in demand. We give good discounts on new books, more than other book stores, since we keep only a 20 percent margin, while most others keep a 40 percent margin. Hence, we get repeat customers.
Have you observed changes in the reading habits?
Yes! Earlier, customers used to read and re-read their books. But today I find, they read and then literally put it away. They are onto newer books. Not many seem to re-visit their books. Otherwise, I find that people are back to buying books. I know there are e-books and e-readers. But my customers say they like to hold a physical book in their hands and hence their repeat visits. I am told that e-books form less than six percent of the total book sales of the retail giants. That says it all.
In this age when lots of book stores around the world have shut down, you have opened a larger outlet. How were you able to do it?
About a year ago, we opened our 8,000 sq. ft. store on Church Street itself. We were not able to handle the weekend crowds in our earlier place, hence we shifted. So for us, it has worked to the contrary. We find that we have many, many regulars and people like to spend a lot of time browsing. They invariably buy books too since we have such a wide collection, to which we keep adding. Our prices are also very competitive. Today, we have four lakh books in our collection, a quarter of which is new books. The rest are second hand books. We get celebrities too…people like Ramachandra Guha and Girish Karnad visit my store often. Since we are a second hand book store, we buy back books from our customers too, whether they had originally bought it from our stores or not.
How big is your business today?
My business generates a turnover of `60 lakh per month from both stores. We have 22 staff members altogether. So from the initial 1,500 books and two staff members, we have grown to this.
Which are your bestselling titles? What do you yourself like to read?
Our bestselling titles are definitely classics like Jane Austen, George Orwell, etc. I like to read a lot too, and my favourite genre is crime novels. I like Raymond Chandler and Rex Stout. My 11-year-old daughter and 7-year-old son love to read too. They visit the store often and pick up books.
What was your family's reaction when you started out on this journey?
They were upset when I left Engineering to do this. They didn't understand books. They didn't visit me the first few years. But now they are with me and they have understood what I do. They are very happy with my profession now.
Do you plan to go online at some point?
Going online is very difficult, as we need dedicated and trained staff. But if our customers email us and request us for books from any part of the country, we will courier it to them. We will only charge them the courier charges. They can email us at: mayigowda@yahoo.com
---
Comments
comments